Recruiting Engine Overview
One of the biggest challenges businesses face today is finding talent.
Yet more than 50% of people report that they are open to a new job. How do you marry the two?
Introducing the Recruiting Engine.

Available in days

days after you enroll

Recruiting | Talent Finder
Available in days

days after you enroll

People Search
Available in days

days after you enroll

Additional Search Resources
Recruiting Engine Screen Shots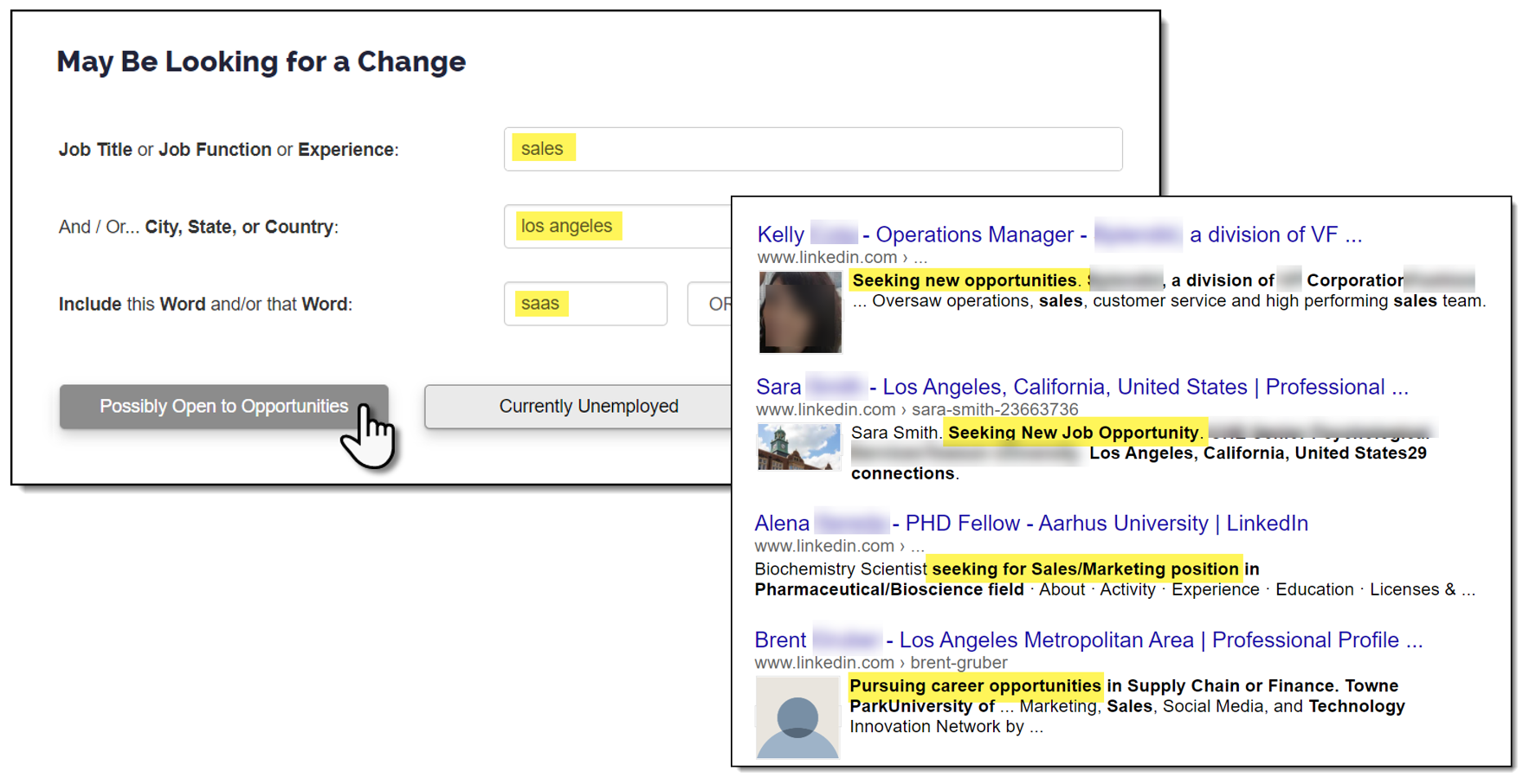 Find People Possibly Looking for New Opportunities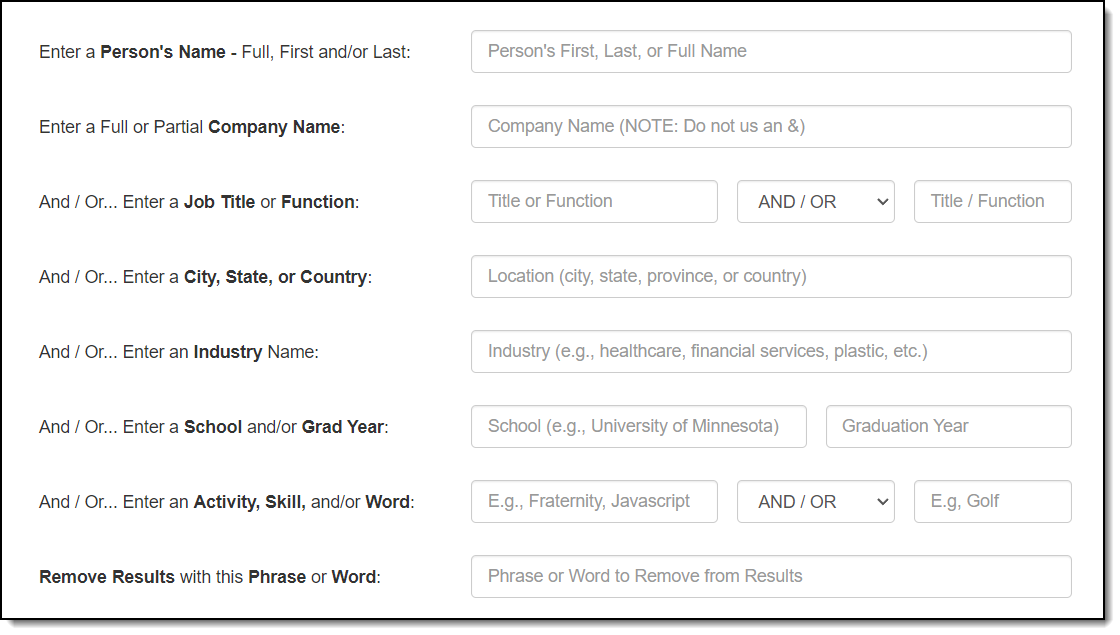 Powerful Advanced People Search Options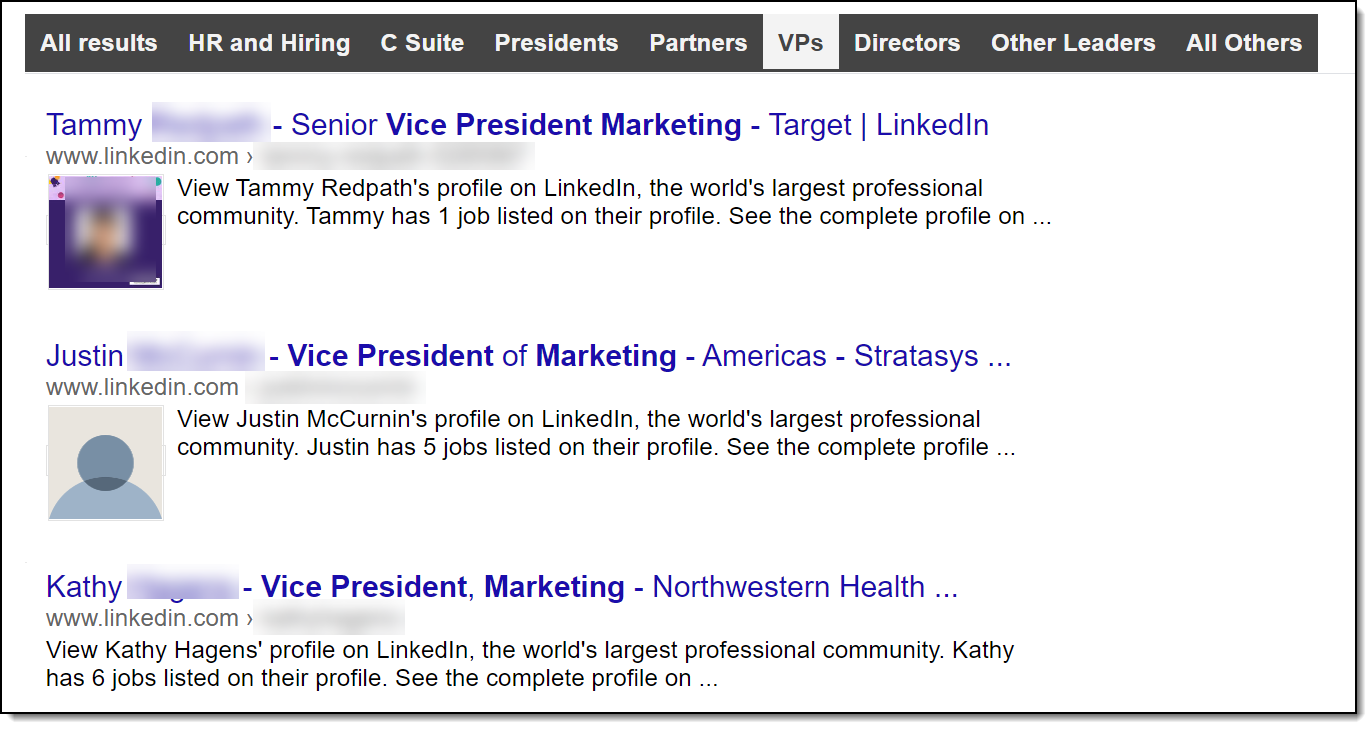 Search for Talent by Title, Function, Location, and More

Search the Latest News, Including Top HR & Recruiting Pubs

Meta Job Search - See Who is Hiring Right Now
Frequently Asked Questions
How often can I use the Recruiting Engine?
Your membership starts the second you join and you have unlimited access to the Engine. Your subscription will automatically renew on your purchase anniversary.
​
How many people in my office can use the Engine?
If you have an assistant, you can certainly share your login information. However, we do ask that every core person in your office has their own membership. We do track usage and if we see unusual activity, we'll contact you and let you know that a) we're thrilled that you're receiving value from the Engine and b) determine if an Enterprise membership is best for your organization. 
​
Does a Recruiting Engine membership mean I can cancel my other online recruiting subscriptions?
ABSOLUTELY NOT! For example, LI Recruiter is a very powerful recruiting search resource that is perfectly complementary to the Recruiting Engine. With LI Recruiter, you are able to save searches, conduct unique searches, and contact candidates directly in ways that you cannot do with the Recruiting Engine. At the same time, the Recruiting Engine also has features that other online services do not have, for example, the ability to search for veterans open to jobs, a powerful news engine, a job fair feature and more. Recruiting is a very tough and competitive business, especially today. We priced the Recruiting Engine so you can continue to afford - and we highly encourage you to purchase - multiple online resources to have in your recruiting arsenal. 
​
Do I have to pay more if you come out with a new version?
Nope! Once you're a member, you'll receive unlimited access to everything in the Recruiting Engine, including any new updates. On your renewal date, there may be a price increase however, during your subscription year, you will have access to everything the Engine offers with no additional charges.
​​
How do I cancel my membership if I am unhappy?
We would never want you to be unhappy! You can cancel your membership at anytime - click on the people icon in the upper right once logged in and click the Manage Subscriptions link. Once you cancel, any upcoming payments will be automatically canceled and your subscription and all future billings will end. Within the first 30 days, if you are unsatisfied with your membership for any reason, contact us and we can provide a full refund. To request your refund, please email [email protected]
​​
Is the Intel Engine a Proprietary Database?
No, the Recruiting Engine is NOT a database. It is, however, a HUGE time saver. The Recruiting Engine makes finding information that is already online much easier. You could use a search engine like Google combined with other Websites to find the information that the Intel Engine delivers. However, you would need to know how to craft complex mathematical Boolean equations and/or know the correct Websites to even visit. You could spend minutes - or more likely hours - trying to find information on your own, or, you could use the Recruiting Engine and find the right information in just seconds.
​
Don't the Advanced Search features in a search engine offer the same functionality as the Intel Engine?
Yes and no. The Advanced features offered with some search engines do allow you to find information without having to know Boolean. However, you would still need to know what information to enter to find specific results and of course, popular search engines are not designed with the sole goal of finding people or candidates for open jobs. With the Recruiting Engine, you theoretically will save hours trying to locate information -- time that you can now spend talking with candidates and growing your business.​
​
How do I know that the results found using the Recruiting Engine are accurate?
With any online search, there is no guarantee that the information is accurate or current. However, the Recruiting Engine has built-in-logic that runs in the background and it attempts to filter out results from non-reputable sources.
​
Can I use the Recruiting Engine to create candidate lists and get their contact information?
The Recruiting Engine is not a list building tool. You can use the Engine to locate people and then contact them via their online profiles or other means that they provide. The Recruiting Engine also has a feature that allows you to determine a candidate's email address. However, if you're looking for a pure list-building database or another tool to more easily access a candidate's contact information, we recommend also purchasing a subscription to LI Recruiter or other recruiting or list-building services. 
​
Some of the results are people who don't appear to be open to new jobs. How did that happen?
The Recruiting Engine uses complex Boolean algorithms that looks for combinations of words that lead the system to believe that a person might be open to a new job and/or career opportunity. Sometimes those words do appear on a person's online profile, just not in the correct order. That is knows as a false-positive. In addition, just like any online search, sometimes odd results appear for no apparent reason. Yet hopefully the Recruiting Engine does a good enough job that 75%+ of the results are truly individuals who fit your search criteria, and in the features geared towards finding talent, are open to hearing from you. 
​
My name showed up in a result and I am absolutely not open to a new job. What do I do?
There are probably words on your online profile that leads the system to believe that you might be open to a new opportunity. Please contact us and we are happy to review your profile and provide guidance on what to do. Just remember that sometimes there is no reason why your name appeared, or maybe in the past you did have words on your profile and search engines have not yet indexed your revisions. 
​
I am open to new opportunities, yet my name does not show up when searching for my skills?
The Recruiting Engine looks for combinations of words on a person's online profile to determine if someone might be open to a new job or career. Please contact us and we are happy to share what words you might want to put on your profile so you do appear. In addition, some people inadvertently, or on purpose, don't make their profile publicly available. For those people, their names will not appear in results. 
​
I entered the right information and someone's name who should appear in a result didn't. Why?
Some people inadvertently, or on purpose, don't make their profile publicly available to open-Web search engines. For those people, their names will not appear in any results. 
Who created the Intel Engine?
The Intel Engine is a program of Sam Richter, CSP, CPAE, founder and CEO of SBR Worldwide, LLC. Considered a leading authority on sales intelligence and digital reputation management, Sam is a bestselling author and Hall of Fame speaker. He delivers his top-rated, incredibly dynamic, highly entertaining, and extremely high-content keynote presentations and workshop sessions to audiences worldwide. Sam was named one of the World's Top 50 Sales Keynote Speakers, one of the Top 15 Virtual Presenters, and one of the Top 25 Most Influential Sales Leaders. Learn more at www.samrichter.com